CalAIM: California's push for Whole Person Care
In the last 10 years, California's Department of Health Care Services (DHCS) has sought to improve the Medicare experience for state beneficiaries. Part of this improvement includes an increase in the number of beneficiaries who get most of their physical care through the California Medical Assistance Program (Medi-Cal) managed care plans. These plans can offer more complete care coordination, care management, and services than a fee-for-service system. 
This reform to the Medi-Cal program is called CalAIM: California Advancing and Innovating Medi-Cal. CalAIM was created to address many complex needs, such as behavioral healthcare access among the state's most vulnerable residents. CalAIM hopes to provide whole-person care (WPC) to help solve many complex health issues among beneficiaries. This includes:
Individuals with frequent hospital or emergency room admissions
Adults or children with or at risk of serious mental illness, serious emotional disturbance, or substance use disorders and co-occurring physical health conditions
Children or youth with complex behavioral or developmental health needs, such as those in foster care or with psychosis
WPC looks at such vulnerable individuals through a holistic lens to address the many different factors that contribute to their health status. Low-income individuals often have unmet health needs that social and economic issues can exacerbate. These issues may include food insecurity, lack of stable housing, incarceration, and unemployment.
There are several advantages to a WPC-based strategy to improve the health of low-income populations:
Going beyond traditional healthcare services to consider social determinants of health
Eliminating fragmented treatment to create more coordinated, cooperative care
Coordinating health, behavioral health, and social services in a way that focuses on the client, improving their care and thus their outcomes
Removing barriers within or between current systems and creating integrated partnerships
Allowing safety net providers to more efficiently and effectively use resources, increasing their ability to improve client health outcomes
The services that address social determinants of health are usually delivered from individual silos, creating fragmented channels that can be difficult to navigate. For example, affordable housing programs, food banks, and substance misuse programs all serve different needs. They do not usually work together, even if all three provide services to the same individual.
However, better coordination and reduced fragmentation could help create a more successful network of care. With the WPC approach, physical health, behavioral health, and social services work more closely to address client needs.
CalAIM is trying to use WPC to reduce barriers and provide tailored support and coordinated services for high-risk Medi-Cal beneficiaries. CalAIM will target social determinants of health, reduce health disparities, and improve health outcomes for all Californians. This could encourage better individual health and quality of life, while reducing per-capita healthcare costs.
Achieving true WPC should include six main points:
Target Population: Identifying those particularly vulnerable individuals who are high users of multiple systems and still have poor health outcomes
Collaborative Leadership: Creating a group of both public and private entities that partner to achieve WPC
Coordinating Services Across Sectors: Creating a more effective, efficient, navigable experience for the WPC target population, as well as new, improved infrastructure to help different services collaborate
Interoperable Data Sharing: Creating software that allows information sharing among partner entities
Financial Flexibility: Investing in new infrastructure to expand services accordingly
Meeting Client Needs: Providing care that meets the social, physical, and behavioral health needs of each targeted individual, makes appropriate referrals, and identifies gaps where new services may be developed
The coordination that CalAIM hopes to achieve will change the way that agencies and health providers work together. For example, clients should be screened for behavioral health needs so that they can be connected to the appropriate services, such as rehabilitation centers or intensive outpatient services. This requires a lot of communication and information sharing, which can be a significant challenge to overcome.
Appropriate technology can help make the implementation of coordinated, innovative care a success. Collecting, analyzing, sharing, and reporting data is essential for WPC and the success of an initiative like CalAIM. With the right data, service providers can target high-risk populations, evaluate pilot program success, and correctly report progress and outcomes.
Finding an EHR designed for Whole Person Care (WPC)
This requires an open-architected, web-based care tracking and coordination platform. Such a platform should be able to: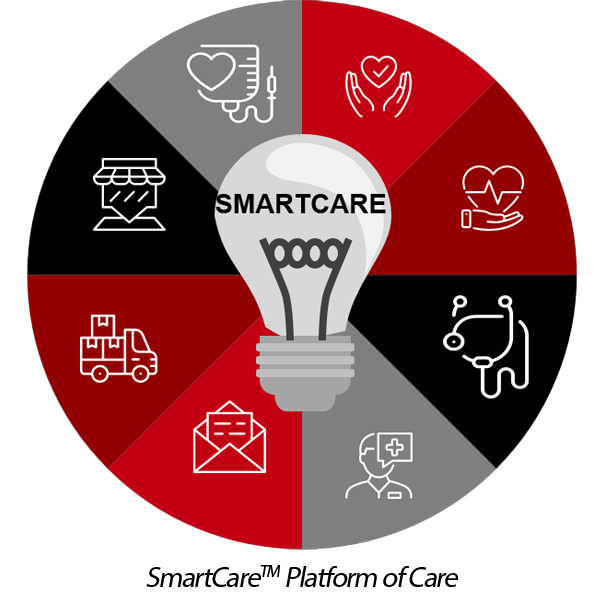 Consolidate assessments and care plans from diverse system providers
Allow for telehealth consultations
Use real-time, secure messaging that lets providers share confidential health information with all parts of the system
Store and consolidate information in a well-defined data warehouse to encourage quality improvement and population health monitoring
Allow users to meet state reporting requirements for behavioral health
SmartCare by Streamline Healthcare Solutions offers such capabilities and more to aid the delivery, management, and coordination of healthcare services. A web-based electronic health record (EHR) application, SmartCare™ is designed for organizations who are part of the MediCal program. 
This EHR helps to manage whole systems and all facets of care to reduce costs while also improving care and client outcomes. The software helps integrate all inpatient, outpatient, and community-based departments in a holistic service approach that supports WPC.
Experience SmartCare™ for yourself.
Contact us today and request a demo to find out what makes SmartCare™ the most intuitive application for the health and human services market.