Our mission is to empower people who help those in need
Our customers are engaged in helping the most vulnerable people in society. This is a high calling – one we are proud to support. At Streamline Healthcare Solutions, we are constantly innovating; our goal is to develop technology that enhances and transforms our customers' businesses and helps them to improve the quality of life for those in need.
Whether you're an experienced professional or a student looking for an internship, there's a place for you at Streamline Healthcare.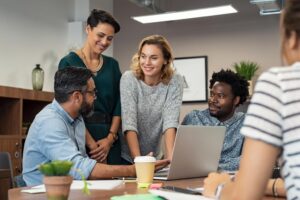 ---
Streamline Healthcare Solutions is an Equal Opportunity employer. If you need reasonable accommodation because of a disability to use our Careers site or to apply for a job, please contact us at jobs@streamlinehealthcare.com
Trans­paren­cy in Coverage The Trans­paren­cy in Cov­er­age Final Rules require cer­tain group health plans to dis­close on a pub­lic web­site infor­ma­tion regard­ing in-net­work provider rates and his­tor­i­cal out-of-net­work allowed amounts and billed charges for cov­ered items and ser­vices in machine-read­able files (MRFs). The MRFs for the ben­e­fit pack­age options under the Streamline Healthcare Solutions LLC can be found here: https://www.bcbsm.com/mrf/index