An EHR Designed with ACOs in Mind
---
A multi-functional EHR that supports the needs of Accountable Care Organizations

Why SmartCare™?
Higher Quality Care With Better Outcomes
Through the SmartCare™ care coordination platform, your ACO will be equipped to coordinate high quality care with better outcomes for your clients. Avoiding duplication errors is easy because our platform will document everything in one system, while giving you the opportunity to connect with other providers, labs, and pharmacies. Check out the SmartCare™ ePrescribing page to learn more.
Integrated Functionality
The integrated functionality of SmartCare™ allows you to process claims directly from your provider network, gives your providers direct access to the system, and manages your member information. Through the SmartCare™ Data Warehouse, your ACO will have reporting capabilities and data analytics to prepare your decision makers for the future.
Improved Managed Care Coordination
In addition to having improved managed care coordination for all service levels from different providers, your staff will feel confident and empowered with one system that will meet all their needs.
---
An EHR for ACOs that brings everything together in one platform
SmartCare™ supports:
Data exchange within and outside the organization.
Use of data as a routine part of clinical work.
Performance review practices.
Management of new payment structures including linking performance to payment.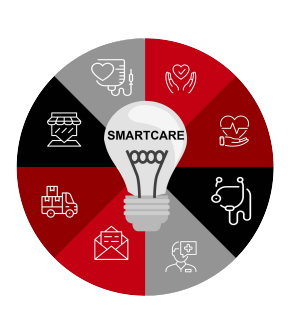 Outpatient/ Ambulatory
Outpatient, Walk-ins, Intensive Outpatient, Club House, ERX-EPCS, PDMP, Telehealth, Patient Portal, RCM
Promoting Interoperability
Pharmacy, Labs, HIE, State, Hospitals, Secure Email, Data exchange within and outside the organization.
---
Get started with SmartCare™